Viessmann Manufacturing Ltd. is one of the world's leading manufacturers of heating technology. Viessmann offers a wide range of products to serve every heating need and every budget. Worldwide, the name Viessmann stands for expertise and innovation.
---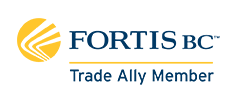 FortisBC is a Canadian corporation headquartered in British Columbia that is the principal natural gas distributor within our province
---
The BC Safety Authority is an independent and self-funded corporation that provides cost-effective and essential safety services to business. industry and the general public. The Gas Safety Program regulates safety in the area of gas distribution and the use of natural, propane, landfill and hydrogen gas.